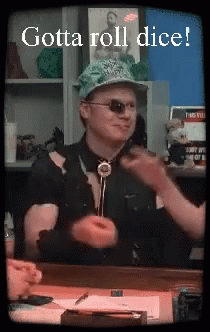 Will Otto turn his work over to a computer?
Edmonton, April 28, 2048
-- As the Brewster Baseball Association prepares for the 2048 Amateur Draft, Jackrabbits fans are again dismayed that GM Mike Dunn has turned draft duties over to clubhouse janitor Otto Pyck. Some fans have mounted an online petition, dubbed "Otto Ought To Auto," which demands that selections instead be made by a computer AI.
"I ain't turning my work over to a freakin' computer," said Otto when asked for comment during a cigarette break. "I'm like totally qualified to do this job. I spent many years playing baseball sims like Out of the Park Baseball. It ain't rocket science, dude."
Edmonton GM Dunn refused our request for an interview, instead issuing a terse statement: "We look forward to Pyck's picks. He's done well for us
in the past
and we have full confidence in his ability to make excellent selections this year."
Regarding the claim that Pyck has "done well for us in the past," we note that none of his selections last year are currently among
the top 100 rated prospects
in the BBA. We therefore openly wonder about Dunn's standards for 'doing well.'
The 2048 draft is particularly important for the Jackrabbits. Their farm system is
among the lowest rated in the league
, and this year the team has four selections in the first two rounds, two of them being compensation picks after losing 1B
Carlomaria 'Short Circuit' Donadoni
and 3B
Steven 'Scooter' Collins III
to free agency, an exodus that
also upset fans
. This year's draft pool is generally thought to be lacking in talent, so Pyck's ability to maximize those picks and begin the re-building the Rabbit farm is particularly crucial.
Meanwhile other fans speculate that the "Otto Ought To Auto" controversy was staged by the team itself, to create a viral diversion from the team's horrendous 8-17 start.