[iPhone XXI video clip]
(Black Sox owner Vinnie Vitale is in the back seat of his stretch Tesla limo, being driven to dinner. He's on a call with Max Nash, who runs a private investigation agency that does extensive work for Vinnie).
Vinnie Vitale:
Max! How's it hangin'? Your boys have any luck running down the driver that
dumped all that crap in the Little Cal
?
Max Nash:
Oh, yeah. We can be very persuasive.
Max "Mr. Persuasive" Nash
Vinnie:
Spill.
Max
(laughs)
: You sure you wanna talk about spills given what went down in
Yellow Springs
?
Vinnie
(sighs)
: What a cluster-you-know-what …
Max:
Yeah, I know. Good luck with that … OK, let's get down to it here.
(Reads from notes)
We tracked down one Ron O'Malley, who was the driver of the truck involved in dumping those drums of pig manure in the Little Cal ….
Vinnie:
O'Malley? He's been with us awhile, right?
Max:
About five years, he said.
Vinnie:
We believe him?
Max: Oh, yeah. He was being very cooperative by the end of our little evening …
Vinnie:
OK, I'll shut up.
Max:
So, yeah. My guys picked up Mr. O'Malley as he was exiting his home – carrying suitcases, by the way – at about, oh, 9:45 p.m. on August 12 and escorted him to our waiting Escalade. Then we proceeded to drive into Indiana.
Vinnie:
Indiana?
Max: So this is you shutting up?
(Laughs)
Yeah, I got a client in Miami County, just north of Kokomo, that runs one of those mega-hog farms. I guess you could say I was inspired by all of your pig shit adventures recently.
Vinnie:
So, you drove O'Malley to a pig farm? Why?
Max:
I'll get to it. So, we had an extremely non-productive conversation on the ride over with Mr. O'Malley about his activities near Black Sox Park on August 11. He kept telling us we could go f*&k ourselves and whatnot …
Vinnie
(snickers)
: … Whatnot …
Max:
Yeah. Whatnot. When we arrived at our destination, we proceeded to escort Mr. O'Malley to the top of an earthen berm overlooking a large anaerobic pig manure lagoon …
Vinnie:
Oh, man. That must have smelled …
Max:
Yeah. It did – it was several acres of pig shit and water on a warm August night. You can imagine. Of course, we were wearing masks, which we did not avail to Mr. O'Malley. We explained to Mr. O'Malley that if he did not start being a bit more … forthcoming … he would be taking a long swim in that lagoon with us supervising from the top of the wall.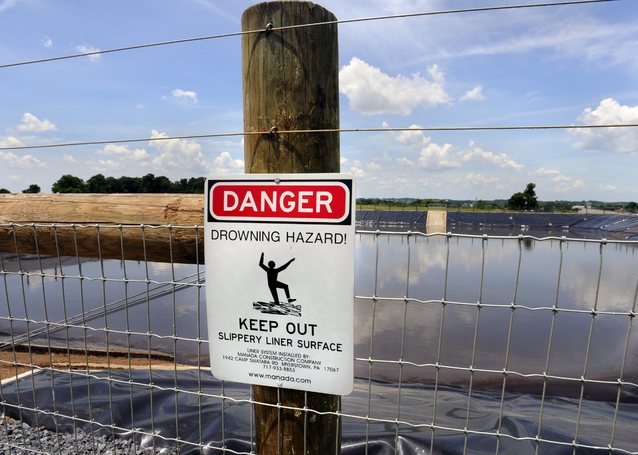 Vinnie:
And that convinced him?
Max:
Not until Tony and Lev dangled him over the side by his ankles …
Vinnie:
Jesus.
Max:
Yeah. You'd be surprised how that clarifies the mind. Anyway, Mr. O'Malley then allowed as to how, yes, he knew that he and his crew, with
Mark Simpson
as a ride-along, were supposed to take those drums of pig manure down to southern Illinois and dump them in an anaerobic lagoon owned by …
Vinnie:
Yeah, yeah. I know that part. Agri-Green's lagoons were over capacity, so we were gonna … um … borrow some capacity at one of our competitors.
Max:
Right. Mr. O'Malley allowed as much. But something happened that changed his mind.
Vinnie:
Yeah?
Max:
Yeah. He said as he and the guys were climbing into their truck, they were approached by a young lady …
Vinnie:
Heidi!
Max:
You know, I was suspicious of that
after we talked
. But no.
Vinnie:
No?
Max:
No. He said this young lady identified herself only by her first name, and offered the four of them – including Simpson, which must have been a laugh - $20,000 each to take those drums of manure to the Little Calumet River just upstream from Black Sox Park and dump 'em.
Vinnie:
And you're sure it wasn't Heidi?
Max:
Mr. O'Malley says he knows what Heidi looks like, and it definitely wasn't her. Oh … and one interesting detail.
Vinnie:
Yeah?
Max:
When Tony and Lev hoisted Mr. O'Malley upside down by his ankles, something fell out of his shirt pocket.
Vinnie:
What was that?
Max:
A plane ticket …
Vinnie:
To where?
Max:
Portland, Oregon.
Vinnie:
No shit?
Black Sox Owner Vinnie Vitale
Max:
Yeah. Mr. O'Malley said the young lady who'd paid them told him that he might want to leave Chicago after this, but he'd have a job waiting for him in Portland.
Vinnie:
So, you said this "young lady" had a name, right?
Max:
Oh, yes indeed.
Vinnie:
What was it?
Max:
Kate.
Vinnie:
Is that supposed to mean something to me?
Max:
Dunno, Vinnie. But you might want to ask around.
Vinnie:
Yeah, yeah. OK. Well this is good, Max. Nice work. So, where's O'Malley now?
Max:
Mr. O'Malley? I suspect he's still showering somewhere.
Vinnie:
Oh man, you didn't …
Max:
Well, he kinda pissed me off with all the whatnot, so after our little chat … well, Tony and Lev mighta dropped him a little …
Vinnie:
Awww. Yuck.
Max:
Yeah. Well, sucks to be him … or near him …
Vinnie:
Whew. So … Kate?
Max:
Yeah. Kate. I still think you should check and see if anyone on your end knows who that might be. Want us to to take a run at it, too?
Vinnie:
Oh yeah. Let's see if we can find Miss Kate …
[Call and video end]