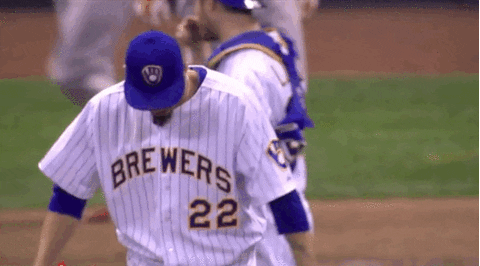 The Journey of a Miserable Human Being
Schuck not happy about career path.... or anything for that matter.
To say
Kunz 'Sticky Hands' Schuck
is a special ballplayer would be an understatement. He is a "special human being" in every definition of the phrase. Once a star high school player, Schuck was drafted by the Huntsville Phantoms in the third round of the 2029 draft. He pitched well in the Phantoms organization. But not well enough I suppose as he was released in 2035. Some say it was performance based, some say it was cause of his attitude... Schuck had a different view of the situation however.
"I was released due to dexterity prejudice. In my draft kit, there was a typo. It said I was left handed. Upon entering pro ball I was handed a glove that would only fit a left handed thrower. I said I'm a righty, do you have a righty glove? They said no we don't have any of those. So I had to use my high school glove."
That wasn't even the end of it. Schuck went on to tell us the story about when he informed Huntsville he was a hitter too.
"They were super stoked. They had given up on me as a pitcher because I was right handed. So they told me to step in the box and see what I could do. So I stepped in the box and waited. Then I waited some more. They just kept looking at me funny. I was like c'mon! Throw the ball already damn it! And they were like... but how do you expect to hit the ball standing on the wrong side of the plate? I thought they were joking, but they were serious. And that was the end of my tenure in Huntsville."
Kunz didn't remain a free agent for very long. He was quickly picked up by the Wichita Aviators.
"My first day in camp, the GM comes up to me and shakes my hand. He then looks down at his hand and wipes it all over my jersey. I'm like WTF buddy? He says what is this sticky stuff? Did you just eat cotton candy or something? I was like no. That's my gimmick. They call me "Sticky Hands". As a two way player I need to apply pine tar to my bat right? Well... sometimes.... that pine tar "accidently" gets on my hands when I pitch."
We all know the Genius. He probably loved that.
"Yeah he said he liked my style. But he also said that he is the O.G. of sticky fingers. And if I wanted to know why they call him sticky fingers I should ask my mom. I was then released abruptly after the Genuis found out that I was born in Germany in June of 2010. He said something Oktoberfest 2009 being a blur and seeing too many similarities in my personality."
In baseball, it takes three strikes before you are out. With the count 0-2, Schuck signed on with the Hustlers.
"I couldn't really stay focused there. They gave me $100,000 signing bonus and then sent me to Pahrump. Do you know what there is to do in Pahrump? There is only one thing and I spent the whole 100k on it in the first week. I end up with these little tiny blisters on my fingers....among other places. Not enough to put me on the DL but enough to effect my throwing and my....nevermind."
All out of chances, Kunz Schuck decided to retire from the game. A few months later he decided to unretire to play for the UMEBA. An upstart league closer to his German home. The Istanbul Bospherus promised Kunz a shot at being a legit two way player.
"Yeah things started out good. They said I'd be a starting pitcher and play in the field when not pitching. There is no DH so if anything I'll get 3-4 at bats a week. Then the idiot GM has to go out and sign 250 players and the league added a DH rule. So now who knows what will come of me. All I know is that I'm mad as hell about the situation."
Can Istanbul make Schuck happy? Can anything make him happy? Probably not. If anything the Chicken Ranch would have. But even that left a lasting mark. Stayed tuned for more adventures of the most miserable man in the UMEBA.