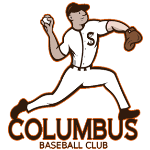 COLUMBUS BROWN SOX 2042 Review
The Brown Sox finished the year at 71-69, a place and three wins worse off than in 2041. I was disappointing in so far as we had hoped for good things for Columbus this year. We had really hoped they would have built on last year's 74-66. True, they were still over .500, a feat they had only achieved in 2037 & 2041, but with, we felt, better players it was a step backwards although the fans backed the team still, the aggregate attendance of 561,867 was 24,000 up on the highest total, which was recorded last year.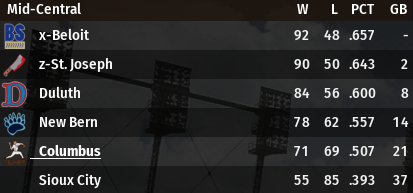 The poor start of 11-17 in April had really doused their season, although they were above .500 in May, July & August it was never by more than a few games and indeed June they slipped to 12-12. Neither their batting or pitching stats were anything to right home about. The batters only struckout 950 times and walked 725 times, both second in the DNL league and they stole 89 bases, third in the DNL. The rest saw them trail in fourth, fifth or even lower, the pitching was even worse. The best stats they had was their 1,086 strikeouts, the sixth best in the DHL and they had only allowed 145 homers, seventh best in the DNL. Both though will be vital required stats if the ever make it to the BBA. Virtually every other stat was languishing in the bottom reaches of the DHL, the defence as well was expectedly poor. Their Defensive Efficiency of .670 was only good enough for 15th in the league and their ZR of -8.9 was the 13th ranked in the league, for an organisation that really prides itself on it's defence that is not good enough and players will have to improve if they want to progress higher in the organisation. The team did however do well when they kept the games close, they won 19 out of 36 games that ended within a one-run score and won seven out of the 11 games that went to extra innings.
23-yr-old Outfielder
Aloisio Prudente
was one of the team's big stars. His batting average of .275 was second on the single season record chart, 24-yr-old 3B
Ernesto Ramirez
set the single season record with an average of .306. Prudente also set single season records in OBP (.456), OPS (.960), WAR (4.9), Runs Scored (102) and stolen bases (34). In addition to Ramirez setting a single season record for batting average, he was third on the single season list for OBP (.391), second behind Prudente in OPS (.924), second in runs (83) and second in RBI (103).
On the pitching front 27-yr-old reliever
Pedro Flores
set the single season mark for wins when he posted a 14-3 record. Flores also moved up to second on the single season list for K's (140) but unfortunately was also up to second in Walks Allowed with 90. Apart from that no-one troubled the Brown Sox's single season pitching records.
TEAM AWARDS FOR 2042


Ernesto Ramirez and Pedro Flores

Brown Sox Batter of the Year : 23-yr-old Ernesto Ramirez led team in Avg, HR & RBI

Brown Sox Pitcher of the Year : 27-yr-old Pedro Flores led team in Wins & K's