OF Jonas Murdock
POT Ratings
CON: 7
GAP: 7
POW: 9
EYE: 7
AVK: 5
Out of the Canadian Province of Manitoba, in a small town called Beausejour, located NE of Winnepeg.... Rumors started circulating of a kid who ripped a hole in a goalie net during a youth hockey game. Unfortunately, Jonas Murdock was a terrible skater, so the coaches would just set Jonas up near the blue line, let him rip slap shots and hoped he wouldn't kill anyone. During a skills competition, Jonas ripped a 170+ KPH slap shot, setting Canadian Youth League Record for hardest hit slap shot... ever.
Even though college hockey scouts quickly lost interest, baseball scouts caught wind that Jonas spent his summers in Minnesota playing baseball during the hockey off season. Because he played centerfield in youth league, he flew under the radar during the last IFA free agent signing period due to his fielding skills... which are more suited to Left Field (IE - He can't play CF at a competitive level). While he has decent range and an ok arm... he still has issues with depth perception and knowing what base to throw the ball...
"I'm a hockey player and I hit dingers... I only play this stupid game because I love smashing the ball out of the park," Murdock was asked after TWC lured him out of Canada with a $5 Million signing bonus.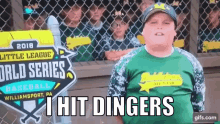 12 year old Jonas Murdock, after the Minnesota Little League coach snuck him on the Roster.
At only 16 years, the Twin Cities Front Office are hoping to pull Jonas' attention away from hockey and get him focused on baseball, and possibly foster a love of the game into him. He's got the raw talent to be something special, but there's a long way to go...