2039 Vancouver Mounties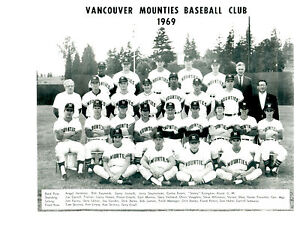 (A team photo of the Mounties the last time they had a .500 season)
It's been a long, long road for the Mounties. The team has not had a .500 season since
Juan Hernández
and
António Correa
were actually good pitchers. They have gone through a whirlwind of GM's. Too many to count. Vancouver has more finger prints on it then OJ Simpsons murder weapon. Enter Taylor Bettencourt. One of the youngest and brightest minds to enter the BBA. He is tasked with fixing this mess. And thus far, the future looks more promising then it's ever have.
Catchers
Andrés Martínez
Gary Bryant
The Mounties were in dire need of a catcher this off season and wasted no time swooping up Andres Martinez. Signed to a fair two year contract with an option for a 3rd, the team bought some time until finding a forever catcher. Martinez had some great seasons in Phoenix before falling off a cliff the last two. Was this a sign of decline or a byproduct of inconsistent play? We will find out soon enough. Bryant is a run of the mill backup catcher. Nothing special really. One thing that we notice immediately here is that Vancouver is prioritizing OBP over average.
1B/DH
Masaki Sato
Scott Harper
José García
1B/DH is cluttered throughout the league and this is no different in Gastown. The Mounties would love to have all 3 of these bts in the lineup but must choose two only. Luckily there is a natural platoon situation as the two lefties and one righty are split heavy. Harper was once considered an elite prospect in the league and showed a strong rookie campaign in 2035. Since then he has struggled a bit and seems to have leveled out as a role player.
Garcia was brought over via trade last season in a deal that is already looking very good for the Mounties. Not only is Garcia a decent hitter, but the player they gave up is already starting to lump at age 21. Meanwhile Soto is a rookie, former first round pick, who looks like he can be an impact bat. Overall this three headed monster should do adequate job of creating some offensive production.
Infielders
Valeri Kharlamov
Kagehisa Echi
Rashardo Menne III
Derrek Kennedy
Francisco Guilamo
Menne is the real treasure of the Mounties team. A young, in his prime, star player that any team in the league will covet. As I always say in spots like this... Vancouver needs to make a decision. Do they want to trade him now or build a team around him. Don't get stuck in the middle. Menne only has one more cheap season. After that he'll likely be making $15-20 million per year. If traded now, he'd likely net a huge haul.
Kharlamov and Kennedy were brought in to stabilize the infield for the coming season. I do like the deals individually. They are cheap enough and for the right kind of players. My only negative is that Kharlamov(4), Kennedy(5) are two of the least rangiest middle infielders in the league. So that could hurt the pitching staff a bit. And neither is enough of an "offensive force" to justify it.
Echi is a solid multi positional backup who may or may not be able to hit a little. He has a lot of value to a team as a late inning sub. Guilamo doesn't appear to have a role on the team. He can hit RHP ok but Menne, Echi, and Kharlamov are all better lefty option.
Outfielders
Jeffrey Smith
Guy Webb
Tony Charles
Ki-seop Park
Domenic Wyatt
Have you heard of Jeffrey Smith? Probably not, but you will before long. This guy is an offensive beast. Drafted 9th overall just last season, Smith is already developed to an all star level with room for more growth. And unlike most of the other elite young hitters coming up these days, he's a competent, heck maybe even above average fielder. He should have a nice long productive career and it's just starting right now.
I believe Ki-seop Park is the longest tenured Mountie. I've been a fan of this guy for quite a while. He is a speed and defense centerfielder who has flirted with and sometimes hit the elusive 2 WAR bar for above average-ness. Park is coming off the worst year of his career, but so are a lot of other Mounties. Last year was a lost season where the team was still figuring stuff out.
In left field is the Jay Bruce of the BBA. Domenic Wyatt is the king of the three true outcomes. Last season Wyatt either homered, walked, or struck out 306 times. I'll have to check with the RonCo Sports Bureau, but I think that may have lead the BBA. Brought in mostly for a fan interest bump, Wyatt should find himself a useful role with the team.
On the bench is Tony 'Booay' Charles. A really solid short side platoon corner outfielder. He should spell Wyatt against the tough lefties. Also on the bench is super sub Guy Webb. Webb can play a good second base and corner outfield, as well as serving as the teams defacto backup CF. He also has positive splits against left hand pitching. I kinda like the teams bench as a whole. Bettencourt is doing a nice job of getting players who can compliment each other rather then a conglomerate of the best available players who end up being redundant.
The team still has a long way to go, but If you can look past the layer of holdover players you can see the master plan here and it looks like a good one. Vancouver is trying to build a team with power and OBP. They favor offense over defense but know that late game defense and versatility is important. And they plan to use all 27 guys rather then just relying on the starting lineup.
Starters
Alejandro Ramírez
José Arellano
José Zamora
Dermott Halford
Juan Guerrero
The Vancouver rotation is not that bad. In fact I think it is pretty good. Ramirez and Arellano are 2 very solid young pitchers that likely have drawn an insane amount of unsolicited trade inquiries. Neither is what you would call an ace, but they are both very solid, young and controllable. And in a league that has been diluted a bit in starting pitching depth due to "stuck changeups" and "debilitating injuries"... that is valuable.
Zamora in the number 3 spot is ok. He once won 18 games on a team that only won 75. That is quite impressive. Yet outside of that aberration year, he has never really lived up to his potential. Ideally this is a guy you want as a number 4 or 5 starter on a championship caliber team. He is a rubber armed pitcher who won't kill you. Not to mention "he keeps his nose clean". I don't know if that means he stays out of trouble or he literally picks his nose often.
Halford and Guerrero are kind of similar to Zamora. Decent inning eating back of the rotation pitchers. So basically with this rotation you have a couple of strong young #2/#3 guys, and three young-ish #4 types. I could see a scenario down the road where Vancouver signs a big ticket #1 starter and all of a sudden it changes the whole dynamic of this rotation. There are a lot of quality arms here. They are just being asked to be more then they are. Which is perfectly fine for a team that isn't quite ready yet.
Relievers
Gerardo Fajardo
Luis Moreida
Kellen Scherer
Bernard Keller
Kuang-yin Qiao
Ricardo Arellano
Alexandre Doyle
The teams closer, Alexandre Doyle either needs to start, get traded to someone who views him as a starter, or be RP converted. He is being wasted as a SP in the bullpen of a second division team. As for the rest of the bullpen, there isn't much to talk about. Fajardo is there to put butts in the seats and the rest of the guys are pretty meh. The one thing I like is that, despite what I said about Doyle, they have a lot of high stamina RP with multiple quality pitches. They can step in at any given notice to cover rotation injuries while being self sufficient.
Review
All in all, I like this team more then I thought I would when I signed up for this gig. As someone in the other league I thought it was just another bad team. But there are a lot of things to be optimistic about. Menne, Smith, Sato along with the not so far away
Fernando Castillo
and
Ángel González
provide a very good offensive core. While the starting pitching is maybe one guy away from being really good. On the negative side, the infield defense is bad and the bullpen could be better.
So this is not going to be Vancouver's year. Too many if's and too many prospects not here yet. But this team is coming along nicely and could turn a lot of heads in a season or two. The key to their success is to lock up Menne, Ramirez, and Arellano to team friendly long term deals. They are all young enough to stay in prime through a run. This will enable them to keep the core together and add complimentary free agents when the rest of the prospects are ready. As far as 2039 record goes. I'll guess 78-84.