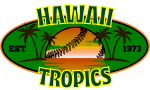 The Hawaii Tropics arrive in Long Beach to play a three game series against the Surfers. The Trops are riding high on a six game winning streak as they move up the standings in the Pacific.
Game 1
- Hawaii's
Ron Shiplack
hits a three run jack and Tropics pitchers allow just an unearned run as they extend their winning streak to seven games.
Shiplack was 1 for 4 with a run and three RBI after hitting his sixth homer of the season in the third inning.
Angelo Lucchesi
was 1 for 3 with an RBI.
Tomas Guillen
was 1 for 4 with a run scored and stole three bases out of four attempts.
Troy 'Teddy Bear' Reynolds
pitched 4 1/3 innings allowing just an unearned run on four hits with a couple of walks and two Ks.
Tye Whitford
earned the win to improve to 2-1 with a 4.78 ERA after throwing 2 2/3 innings. He just walked a batter while fanning two.
Hawaii wins 4-1.
Game 2
- The Hawaii Tropics score five runs in the top of the ninth to overcome a one run deficit and win their eighth game in a row.
Alejandro Ortiz
led the way for the Hawaii offense with 3 hits in 5 at bats. He doubled and homered to drive in three runs and score two.
Karunamaya Makarand
drove in the go ahead run with a double in the ninth inning. He was 3 for 5 with an RBI, a run scored and a stolen base. Angelo Lucchesi was 2 for 3 with a triple, two walks and an RBI.
Daruna Maddukuri
pitched five innings allowing three runs on five hits and a couple of walks. He struck out five batters in a no decision.
Sumitomo Takahashi
pitched two innings of relief walking one and striking out one before being relieved by
Ronnie Sprinkles
. Sprinkles earned the win after throwing 1 1/3 innings of scoreless relief. He gave up a hit, issued a walk and fanned two batters. He improved to 4-0 with a 2.09 ERA.
Hawaii wins 7-3.
Game 3
- The Long Beach Surfers end the Tropics win streak in the series finale. Hawaii starter
Semih Gurani
was roughed up for five runs on six hits and a walk in three innings. He struck out a batter as he falls to 2-3 with a 4.76 ERA.
Sumitomo Takahashi pitched two clean innings with 5 Ks in an outstanding relief appearance.
Tomas Guillen was 2 for 5 with a solo homer, a run scored and two RBI. Ron Shiplack was 2 for 3 with a double, a walk, a run scored and an RBI.
Long Beach wins 7-4.
Sounds of the series: "Tchekanov didn't beat us!"
Hawaii wins the series 2-1.