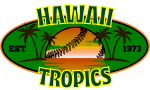 The Hawaii Tropics finish their road trip with a three game series in Omaha against the Cyclones. The season series is 2-1 in favor of Omaha.
Game 1
- The Tropics get bombarded again in a
Bob McConnell
start as the Cyclones cruise to a win. McConnell gave up eight runs on seven hits and two walks over just two innings. He falls to 4-9 with a disgusting 6.90 ERA.
Hawaii Manager
Ernesto Garcia
said of McConnell, "We are waiting for
Poole
to come back from injury so we can move McConnell to the 'pen."
CF
Jorge Salas
was 1 for 4 with a two run homer in the fourth inning.
Pierangelo Ferri
was 2 for 3 with a double and an RBI.
Omaha wins 11-3.
Game 2
- The Tropics score four runs in the eighth inning to take the lead then withstand the Cyclone onslaught to come away with a win. RF
Mike Campbell
was 3 for 4 with a triple, two RBI and two runs scored.
Adhyapayana Mehta
was 3 for 5 with three runs scored and swiped two bags.
Manny Garcia
was 1 for 3 with a double, a run scored and two RBI. Pierangelo Ferri was 1 for 4 with a stolen base and two RBI.
SP
Maup Manshert
dod just enough to keep the Tropics in the game. He pitched 5 2/3 innings giving up three runs on four hits and walked three batters. He fanned four in a no decision. RP
Tye Whitford
pitched two clean innings and struck out two batters to get the win.
Hawaii wins 7-6.
Game 3
- The Hawaii Tropics get a rare series win with a team effort to down the Omaha Cyclones on the rubber match. SP
Niccolo "Notorious" Destefani
pitched 5 1/3 innings surrendering four runs on five hits. He was a bit wild as he walked four and struck out four but earned the win to improve to 6-5 with a 4.46 ERA.
LF
Bronx 'Little Bron' Cortez
was 3 for 5 with a solo homer and three runs scored. Manny Garcia was 1 for 2 with a double, two walks, two stolen bases, three runs scored and an RBI. C
Ron Shiplack
was 2 for 5 with a run scored and two RBI.
Hawaii wins 10-6.