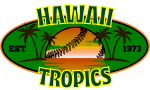 The Hawaii Tropics begin a six game road trip with a three game series against the Sacramento Mad Popes. Sacramento holds a 7-3 lead over Hawaii in the season series.
Game 1
- The Tropics jump out to a 3-0 lead on the Mad Popes and hold off any comeback attempts to win the series opener. SP
Niccolo "Notorious" Destefani
was good going 5 1/3 innings giving up one run on four hits and a walk. He fanned five and improved to 5-5 with a 4.36 ERA.
Rich Martinez
pitched a clean inning and lowered his ERA to 2.21.
Ronnie Sprinkles
picked up his 12th hold of the season going 1 1/3 innings. He gave up two hits, walked one and fanned one. He has a 2.76 ERA on the season.
Stephen Cox
was 2 for 2 with a double, a walk and two RBI.
Hawaii wins 3-1.
Game 2
- The Sacramento Mad Popes found their bats and scored 11 runs on the Tropics in the seventh inning to even the series 1-1. The game started without any issues with Hawaii SP
Atmo 'Mole' Ananas
going six innings allowing just four hits and walked two batters. He fanned three and left the game with a 7-0 lead. The Mad Popes unleashed the scourge of Camacho upon the Hawaii faithful and won the game.
Rookie
Adhyapayana Mehta
was 3 for 5 with a double and a homer. He scored two runs and drove in one run. He is hitting .300 on the season with 2 homers and 21 RBI.
Lorenzo Gonzales
was 3 for 5 with three runs scored and three stolen bases.
Ron Shiplack
was 3 for 4 with a double and a solo homer. He scored two runs and had three RBI.
Sacramento wins 11-7.
Game 3
- The Mad Popes win the series against the Tropics with a dominating, combined four hit shutout of Hawaii. SP
Zak 'Hitman' Johnson
was actually good for Hawaii this day going six innings allowing three runs (two earned) on seven hits and two walks. He fanned six but took the loss to fall to 7-11 with a 4.88 ERA.
Lorenzo Gonzales (1 for 4), Ron Shiplack (1 for 3),
Carl Thibodeaux
(1 for 3) and
Jorge Salas
(1 for 2) had the only hits for the Tropics.
Sacramento wins 8-0.