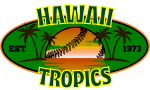 The Hawaii Tropics finish their road trip with a three game series against the Valencia Stars. The Trops have struggled against the Stars this season going 3-7 so far.
Game 1
- The Hawaii Tropics losing streak is now up to seven games as the Stars easily handle the sputtering Hawaii offense. The Tropics had nine hits and worked four walks but could nit get that timely hit to score more than one run in the game.
SP
Bob McConnell
will need a move to the bullpen as he continues to struggle going more than once through a lineup. He made it to four innings allowing five runs on six hits, walked three and struck out just one. Of those six hits allowed, three were homers. He falls to 4-7 with a 6.31 ERA.
Carl Thibodeaux
was 2 for 2 with a double, two walks and an RBI.
Adhyapayana Mehta
was 1 for 4 with a walk and a stolen base.
Manny Garcia
was 1 for 4 with a stolen base, a run scored but struck out three times.
Valencia wins 6-1.
Game 2
- The Tropics put up a fight in the second game of the series but the Stars walk it off in the ninth to extend the Hawaii losing streak to eight games. Hawaii SP
Niccolo "Notorious" Destefani
struggled through 4 2/3 innings giving up four runs on seven hits and three walks. He fanned three in the no decision.
Rookie utility man Adhyapayana Mehta was 3 for 3 with an RBI and was caught stealing.
Ron Shiplack
was 2 for 4 with a run scored.
Valencia wins 6-4.
Game 3
- The Stars get the series sweep of the Trops in a pitchers duel. Hawaii has now lost nine games in a row. SP
Maup Manshert
kept the Tropics in the game with a good start. He pitched five innings allowing a run on six hits, walked two and fanned four.
Omar Altaner
was 2 for 4 with a double and a solo homer.
Valencia wins 2-1.