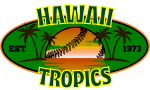 The Hawaii Tropics make a trip to Des Moines for a three game series against the Kernels.
Game 1
- The Tropics produce just three hits on offense and lose SP
Ernie Poole
to a hamstring injury to drop the opener in Des Moines. Poole pitched two innings fanning one and did not return to the game. Team Trainer
Ernesto Zaffoli
said, "Zak felt a tug in his hammy and it tightened up between innings. He may have to have an IL stint."
Jon Whaley
was the emergency reliever for the Trops. He struggled in that role as he gave up three runs on four hits and a walk in an inning. He takes the loss and falls to 0-1 and his ERA balloons to 3.15.
Omar Altaner
(1 for 3),
Stephen Cox
(1 for 1) and
Carl Thibodeaux
(1 for 2) were the only players to record a hit for Hawaii.
De Moines wins 3-0.
Game 2
- The Hawaii Tropics pound out 15 hits but cannot get a hit when it counted. The Trops scored just three runs and fall again to the Kernels. SP
Zak 'Hitman' Johnson
has had his typical roller coaster career and season. He pitched four innings surrendering six runs on nine hits. He walked nine and fanned five but gave up four homers. He falls to 6-9 with a 5.21 ERA.
Rookie
Adhyapayana Mehta
was 3 for 3 with a run scored, an RBI and two stolen bases. He was also caught stealing one time.
Manny Garcia
was 3 for 5 with an RBI.
Pierangelo Ferri
was 3 for 5 with a double and a run scored.
Des Moines wins 7-3.
Game 3
- The Kernels complete the series sweep of the Hawaii Tropics scoring seven runs on fourteen hits.
Bob McConnell
started the season well but now is struggling. He pitched five innings allowing five runs on nine hits while walking two and striking out three. He fallls to 4-6 with a 6.05 ERA.
Manny Garcia was 3 for 4 with a double, a run scored, an RBI and a stolen base.
Des Moines wins 7-2.