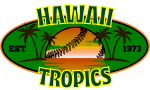 The Hawaii Tropics begin the second half of the 2048 BBA Season with a four game series against the Long Beach Surfers at Vito Constantino Memorial Stadium.
Game 1
- The Surfers and Tropics struggle to get any offense going but Long Beach did just enough to earn the win in the series opener. Hawaii SP
Zak 'Hitman' Johnson
struggled over 5 2/3 innings giving up four runs (three earned runs) on eight hits. He walked two and fanned two as he fell to 6-8 with a 4.87 ERA.
Mike Campbell
was 1 for 4 with an RBI.
Long Beach wins 4-1.
Game 2
- The Tropics even the series against the Surfers with two big innings. The Tropics scored four runs in the second and three in the seventh to take the lead for good.
Bob McConnell
struggled again going five innings. He surrendered five runs on six hits and four walks. He struck out just two in the no decision.
Ronnie Sprinkles
pitched 2 2/3 innings allowing only two hits and fanned one while earning the win. He improves to 5-4 with a 2.43 ERA.
Tye Whitford
pitched the final 1 1/3 giving up three hits but recording the save.
Pierangelo Ferri
was 2 for 4 with two doubles, a run scored and two RBI.
Stephen Cox
was 1 for 1 with a pinch hit two run double.
Hawaii wins 7-5.
Game 3
- Long Beach strikes back with a fantastic pitching performance from
Del Willis
. Willis allowed just two hits over eight innings to get the win. SP
Niccolo "Notorious" Destefani
gave up three runs on four hits and walked three in 5 1/3 innings of work. He fanned two and gave up two homers. He falls to 4-4 with a 4.45 ERA.
Ron Shiplack
(1 for 4),
Adhyapayana Mehta
(1 for 4 ) and
Larry DeCourteney
(1 for 3) recored the all the Hawaii hits.
Long Beach wins 6-0.
Game 4
- The Hawaii Tropics earn a series split with the Long Beach Surfers. SP
Maup Manshert
was good but not great in seen innings. He gave up four runs on six hits and two walks. He struck out six and earned the win. He is 5-9 with a 5.08 ERA. Ronnie Sprinkles pitched a clean inning striking out one batter.
Alberto Castaneda
earned hits third save of the season with a clean ninth. He struck out the side.
Mike Campbell was 2 for 4 with a double, a homer, a walk, two runs scored and three RBI to lead the offense.
Lorenzo Gonzales
was 2 for 5 with a run scored and an RBI.
Hawaii wins 6-4.