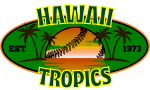 The Hawaii Tropics get a day off before playing a three game series against the Chicago Black Sox in the Windy City.
Game 1-
The Hawaii Tropics get a pleasant surprise from SP
Zak 'Hitman' Johnson
. Johnson was tough to hit all day. He pitched eight innings allowing seven hits and giving up just one run. He walked none and struck out five to improve to 6-6 and lower his ERA a bit to 6.28. RP
Patricio Goodair
pitched a clean ninth for his 5th save of the season.
On offense, the Tropics eked out in the top of the fifth. Trailing 1-0, DH
Ernest McBride
hit a double to lead off the inning. He moved to third on a 6-3 ground out by CF
Manny Garcia
. McBride moved over on a great fake back to second then used his speed to get to third on the throw. McBride then scored on a fielders choice off the bat of C
Ron Shiplack
4-3 to tie the game at one.
All was quiet until the top of the seventh inning. RF
Mike Campbell
took the first pitch for ball one. He then missed a cutter to even the count 1-1. Chicago pitcher
Amayas Moelling
threw a fastball to Campbell on the outside corner that was fouled off to make the count 1-2. Moelling changed the eye level with a cutter down and in on Campbell but he spit on it to even the count 2-2. The next pitch from Moelling was a slider. With his catcher set up on the outside corner he threw a cement mixer up there and Campbell's eyes light up. The ball rocketed out to left center at 103.8 MPH for a 434 foot solo homer to put the Tropics up 2-1.
Hawaii wins 2-1.
Game 2
- Hawaii Rookie
Denny Hamilton
was cruising along with a 5-1 lead. He had pitched 6 innings and gave up no runs on just one hit. That's when the wheels came off. He gave up 6 runs on 6 hits and was chased from the game on a three run homer off the bat of Chicago 2B
Rocky Wattson
. The Black Sox would score again on a solo homer before the inning ended on a double play. That is all the Black Sox would need as they held on for the win to even the series 1-1.
Hamilton ended the day with 6 1/3 IP, six runs on six hits, two walks and struck out three. He falls to 4-1 but the start was much better than the box score appears.
Offensively, Hawaii had homers from SS
Logan 'LJ' Niles
(1 for 4), Ernest McBride (1 for 4) and Manny Garcia (1 for 2).
Chicago wins 7-5.
Game 3-
Hawaii SP
Alaric Wullenweber
goes the distance against the Black Sox but the Tropics drop the series 2-1.
Wullenweber pitched 8 innings allowing four runs on seven hits and a walk. He struck pout seven but falls to 14-4 with a 3.19 ERA.
1B
Gary Allen
was 2 for 3 with a solo homer, a run and two RBI.
Ron Shiplack was 1 for 3 with a walk and a solo homer.
Chicago wins 4-3.
The Hawaii Tropics finish their long road trip with a three game series against the Valencia Stars.
Game 1
- Hawaii SP
Niccolo "Notorious" Destefani
and RP
Felipe Lopez
shut down the Stars offense and Ernest McBride hits two bombs as the Tropics romp.
Destefani pitched seven solid innings giving up just five hits and a walk while striking out eight batters. He improves to 8-4 with a 3.27 ERA. Felipe Lopez came on in relief and worked two innings giving up just a hit, a walk and striking out one.
McBride finished the day 4 for 4 with a single, double and two homers. He scored three runs and drove in five.
Mike Campbell was 1 for 3 with a two run homer.
Hawaii wins 9-0.
Game 2-
The Stars continue to give the Tropics fits this season as
Aaron Haney
and
Jorge Estrada
power Valencia past Hawaii to even the series. Valencia is 7-5 against Hawaii so far this season.
Hawaii SP
Jesus Gonzalez
has cooled off as of late. He gave up seven runs on five hits, three walks and struck out four in 4 1/3 innings of work. He falls to 5-6 with a 4.86 ERA.
Mike Campbell was 1 for 5 with a two run homer.
Gary Allen was 4 for 5 with a run scored.
Valencia wins 7-4.
Game 3
- The Hawaii Tropics headed into the bottom of the eighth inning with a 3-1 edge before Zak Johnson and Felipe Lopez allowed one run each to tie the game. In the bottom of the ninth, Lopez got into trouble again before being lifted for RP
Patricio Goodair
. Goodair couldn't get the job down as he walked a couple batters then gave up the winning hit as the Stars walk off with the win and the series.
Zak Johnson had another good start going 7 1/3 innings. He allowed two runs on three hits and a couple of walks. He struck out four but gets a no decision.
Hawaii Pitching Coach
Tony Torres
said of Johnson, "We have been working on his control issues. He needs to keep showing this kind of improvement."
CF
Michel Noel
was 2 for 4 with a solo homer.
LF
Bronx 'Little Bron Cortez
was 2 for 4 with a solo homer.
GM Jim Walker said, "We are looking for Cortez to make some noise. He is the future here in left field and he needs to show us something."
Gary Allen was 2 for 5 with a double and a solo homer.
Valencia wins 4-3.