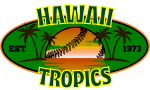 The Hawaii Tropics made some signings going into Spring Training that they hope will make some impact this season.
The first of these signings was journeyman RP
Patricio Goodair
. Goodair has been in the San Antonio, Montreal and Calgary organizations. He is a 6'8 right hander that can light up the radar gun at 98-100 mph with his cutter. He has a changeup he uses against lefties and a slider he he throws to righties.
GM Jim Walker said, "Goodair is a guy we hope can give us 45-50 innings. Anything more is icing on the cake."
Contract 1 year $1.85 Million
The next signing was 3B
Hector Ojeda
. Ojeda last played in the BBA with the Charm City Jimmies in 2044. Ojeda has good home run power and should provide good defense at third.
Walker said, "Ojeda just gives us more options this season in the infield. With the losses of
Nichols
at second,
Fernando Rodriguez
at 3B and SS
Fernando Rodriguez
we have to expand our options."
Minor league contract
And finally, the Tropics signed
Carlos Martinez
. Martinez was drafted by the Madison Wolves in 2036 and traded in 2037 to the Vancouver Mounties. He played for the Mounties for 6 seasons averaging .256/.310/.418 and collecting 2.8 WAR.
Walker said of Martinez, "Carlos will play second base for us this season. We believe that he can give us replacement level performance."
Contract 1 year $1.5 Million