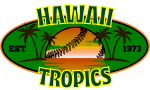 The Hawaii Tropics hit the road again for a three game series against the Sacramento Mad Popes at The Basilica at Muskrat Slough.
Game 1
- Hawaii pitching holds up but the offense fails the Tropics as the Mad Popes win the opener. SP
Zak Johnson
pitched 6 2/3 innings and gave up two runs on eight hits, a walk and struck out four batters but was tagged with the loss.
DH
Ernest McBride
was 2 for 4 with a win scored.
Sacramento wins 2-1.
Game 2
- The struggles of Hawaii SP
Niccolo "Notorious" Destefani
2045 season continue. Destefani gives up five runs on eight hits and a walk over 3 2/3 innings of works while striking out five batters.
LF
Bastiao Fardos
was 2 for 4 with a triple, a homer, two runs scored and two RBI.
Sacramento wins 7-6.
Game 3-
SP
Alaric Wullenweber
wins his 13th game of the season and the Tropics avoid a sweep at the hands of the Mad Popes. Wullenweber pitched 7 innings and surrendered just a run on four hits, with a walk and five strikeouts. RP
Stephen Taub
pitched the final two innings giving up two hits and striking out one for the save.
SS
Ben Vaive
was 1 for 4 with a triple and two RBI.
Hawaii wins 4-1.
The Hawaii Tropics travel up the coast to Seattle for a short two game series against the Storm at King County Complex.
Game 1
- After not blowing a lead for three games, the horrible Hawaii bullpen strikes again. Leading 9-2 going into the bottom of the eighth, the 'pen allows six runs in that inning and then three runs in the bottom of the ninth for a walk off loss.
1B
Gary Allen
was 1 for 4 with a solo homer, a walk, two runs scored and an RBI.
Ernest McBride was 1 for 5 with a run scored and two RBI.
Ben Vaive was 2 for 4 with a run scored and two RBI.
SP
Jesus Gonzalez
is showing some improvement going seven innings and giving up three runs on four hits and four walks while striking out six.
Seattle wins 11-9.
Game 2
- The Tropics use a bullpen day and the results are the same as when they use a starter. A loss.
RF
Mike Campbell
was 3 for 5 with a runs scored.
Ben Vaive was 1 for 4 with two RBI.
2B
Jack "Junkyard" Nichols
was 2 for 3 with a triple, a run scored and an RBI.
Seattle wins 6-5 and sweeps the series.