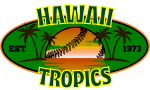 The Hawaii Tropics announce their 2044 Frick League Charles Puckett Golden Bat Award Recipients are 1B
Gary Allen
and DH
Ernest McBride
.
Allen was in a close race with Madison Rookie
Chris Mann
. Allen took the award vote 12-10 over Mann for his first Golden Bat.
Allen transitioned from 3B to 1B in Spring Training and came out of the blocks in a full sprint to open the season. He finished the season with 200 hits, 49 doubles, 3 triples and 37 homers. He drove in 123 runs while scoring 104 runs. He drew 37 walks and struck out 114 times. He slashed .314/.369/.584 and posted a 5.9 WAR.
Allen said, " I worked hard this season with our Hitting Coach
Matthew Stuart
on keeping the bat in the zone longer. All that work paid off."
McBride earned his third consecutive Golden Bat at DH receiving 18 votes. McBride was just getting hot when he was hit by a pitch and went on the IL with a broken hand. He still posted great power numbers. McBride slashed .300/.366/.618 with 32 homers, 91 RBI and 74 runs scored. He had 121 hits in 403 ABs with 30 doubles, a triple, 30 walks and 70 strikeouts. He posted a 3.7 WAR in 104 games played.
McBride said, " This season was tough. I am humbled that I was chosen for this award even though my work was cut short this season."