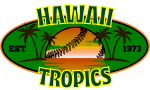 The Hawaii Tropics return home to face the Vancouver Mounties in a four game series at Diamond Head.
Game 1
- The Tropics get a great team effort in the series opener. SP
Zak Johnson
pitches just 5 innings but gives up just 2 runs on 6 hits and walks 3. He struck out 7 batters and earned his 10th win of the season. RP
Douglas Wils
(1 2/3 IP), RP
Alberto Castaneda
(1 1/3 IP) and RP
Raymond Ortiz
(1 IP) allow no hits and no runs to finish off the win.
2B
Jack "Junkyard" Nichols
was 1 for 3 with a three run homer, two runs and a walk.
CF
Michel Noel
played well in the absence of the injured
Ronnie Hubbard
. Noel was 1 for 3 with a triple, two runs scored, an RBI, a walk and a stolen base.
SS
Fernando Rodriguez
was 2 for 3 with a double, two RBI and a stolen base.
Hawaii wins 8-2.
Game 2
-
Alaric Wullenweber
and the Tropics bullpen were dominant as Hawaii runs away from the mounties for another win.
Wullenweber pitched 6 2/3 innings and gave up just a run on 4 hits, a walk while striking out 8 batters. He is now 12-4 with a 2.90 ERA.
DH
Ernest McBride
was 4 for 5 with his 30th HR of the season. He also had two doubles, two runs scored and three RBI.
Jack Nichols was 3 for 3 with a walk and two RBI.
Hawaii wins 9-1.
Game 3
- Ernest McBride was 3 for 3 with two homers and C
Ron Shiplack
was 2 for 4 with a homer to lead the Tropics to another win. McBride drove in five runs and scored three. Shiplack scored a run and drove in four.
SP
Niccolo "Notorious" Destefani
allowed one earned run (two runs) on 5 hits and a walk over 5 2/3 IP. He struck out 5 batters to get his 10th win of the season.
The bullpen again did their job with 3 1/3 innings of work allowing just a run to finish out the game.
Hawaii wins 13-3.
Game 4-
The Tropics get off to a great start getting a solo homer off the bat of RF
Mike Campbell
on the second pitch of the bottom of the first. After a
Gary Allen
strike out and a
Bastiao Fardos
ground out Ernest McBride stepped to the plate. He fouled off the first pitch then swung and missed at the second. The next pitch hit McBride in his hand near the useless hamate bone. The entire stadium was hushed as the trainers checked McBride's injury.
He was removed from the game and replaced with
Manny Garcia
on the base paths.
This incident seemed to take all the life from the team as they sleep walked through the game and fell to Mounties. The Tropics recorded just two more hits the rest of the way.
After the game, Tropics Manager
Ricardo Morales
said, "It looks like McBride will be out for a while. We will circle the wagons and look for the young guys to fill in. Hubbard should be back in a few weeks and that should take some pressure off."
The Hawaii Tropics GM Jim Walker could be heard yelling expletives at Mounties Starter
Lando Klomp
from behind the plate where he sits.
Vancouver wins 6-1. The Tropics win the series 3-1.
The Tropics head to the mainland for a three game series with the Sacramento Mad Popes at South Pacific Field.
Game 1
- Tropics DH
Jose Camacho
does his best Ernest McBride imitation going 2 for 4 with a double, and a Grand Slam to lead Hawaii over the Mad Popes in the series opener. LF
Bastiao Fardos
was 2 for 5 with a homer, a run and two RBI.
SP
Jesus Gonzalez
pitched 7 innings giving up 4 runs on 8 hits, walked no one and struck out 7 batters. He won his 8th game against 5 losses and a 3.58 ERA.
RP
Stephen Taub
pitched two clean innings for the save.
Hawaii wins 7-4.
Game 2
- Camacho hits a three run homer against the Mad Popes but Sacramento pitching keeps the rest of the Hawaii lineup in check as they even the series.
Camacho was 1 for 4.
Gary Allen was 2 for 4.
Zak Johnson labored for 6 innings and gave up 6 runs on 10 hits and walked 1. He struck out 3 batters but falls to 10-8 on the season.
Sacramento wins 7-3.
Game 3-
The Mad Popes take advantage of mistakes made by Alaric Wullenweber to score four runs and win the series.
Wullenweber pitched 7 innings surrendering 4 runs on 8 hits, walked none and struck out 3. He gave up two bigs homers and falls to 12-5 with a 3.00 ERA.
Gary Allen goes 1 for 3 with a solo homer.
Sacramento wins 4-2 and win the series 2-1.