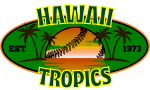 The Hawaii Tropics return home to host the Long Beach Surfers in a three game series at Diamond Head.
Game 1
- The Hawaii Tropics come back from down 5-0 to take the series opener. The Tropics offense scored four runs in the sixth and 3 in the seventh to overtake the Surfers. Tropics RF
Mike Campbell
gave the home team the lead for good with a 3 run shot. He finished the day 1 for 2 with a walk, a HBP, 2 runs and 3 RBI.
SS
Fernando Rodriguez
is showing improvement in is play in he field and at the plate. He was 3 for 3 against Long Beach pitching with 2 doubles, a run and 2 RBI.
LF
Bastiao Fardos
has had a slow start to this season after tearing it up in 2043. He did go 2 for 5 with 2 run scored and a stolen base to raise his average to .247.
CF
Ronnie Hubbard
was 2 for 3 with 2 RBI.
SP
Niccolo "Notorious" Destefani
gave up 5 runs on 8 hits and a walk in 5 innings of work. He struck out 3 in 89 pitches.
Hawaii wins 7-5.
Game 2
- The Hawaii Tropics fans were treated to an unexpected happening against the Long Beach Surfers. Tropics Ace SP
Alaric Wullenweber
pitched a no hitter striking out 12 batters and hitting a batter. He was assisted in his no hitter by a ruling by the official scorer in the fifth inning. A sharp ground ball was hit toward SS Fernando Rodriguez that he booted to allow the hitter to reach base. After a fly out, Wullenweber hit the next batter to put 2 men on with 2 outs. He then got a fly ball to wriggle out of trouble and he breezed the rest of the way to get the no no.
Wullenweber's battery mate C
Ron Shiplack
was 2 for 3 with a run and an RBI. Shiplack said of Alaric after the game, " He didn't shake me off the entire game. I put down the sign and location and just put it there. He was great out there."
Hawaii wins 3-0.
Game 3
- Former Hawaii 1B
Manuel Aguilar, Jr.
extracted some revenge against his former team with a solo homer in extras to allow the Surfers to avoid the sweep. RP
Norm McConnell
gave up the homer to Aguilar to take the loss.
3B
Miguel Rodriguez
was 1 for 5 with a 2 run homer.
Long Beach wins 4-3 but Hawaii wins the series 2-1.
After an off day, the Tropics play a three game series with the Sacramento Mad Popes at Diamond Head.
Game 1
- The Sacramento offense came out swinging and pummeled Tropics SP
Zak Johnson
for 7 runs in 5 innings of work and cruise to a series opening win. Johnson gave up 9 hits, a walk and struck out 5 batters.
CF Ronnie Hubbard was 2 for 4 with a homer, a double, a run and 2 RBI.
Sacramento wins 8-4.
Game 2
- Tropics CF Ronnie Hubbard homers twice and SP
Jesus Gonzalez
was solid going 7 innings. Gonzalez allowed 1 run on 3 hits and 4 walks. He struck out 4 batters and improved to 3-1 with a 3.44 ERA,
RP
Stephen Taub
pitched 2 innings of hitless baseball for his 1st save of the season.
Hubbard was 2 for 4 with 2 runs and 4 RBI.
Hawaii wins 5-1.
Game 3
- Tropics RF
Mike Campbell
continues his offensive assault on the Frick going 1 for 4 with a 3 run homer to lead Hawaii to a narrow win over the Mad Popes. Campbell has hit .320 with 8 homers and 36 RBI so far this season.
SP
Niccolo "Notorious" Destefani
pitched 5 2/3 innings allowing 3 runs on 6 hits, 3 walks and struck out 1.
RP Norm McConnell allowed a run in the ninth but got the final outs to earn his 7th save of the season
Hawaii wins 5-4 and wins the series 2-1.