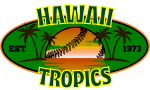 The Tropics welcome the Madison Wolves for a three game series at Diamond Head.
Game 1
- Hawaii SP
Niccolo "Notorious" Destefani
pitched 6 good innings and CF
Ronnie Hubbard
and 1B
Manuel Aguilar, Jr.
each homer. They combined for 6 RBI in leading the Tropics to a series opening win.
Both were 2 for 4 on the day with Aguilar scoring twice and Hubbard crossing the plate once.
Destefani allowed 1 run on 7 hits, a walk and struck out 3 batters. He improved to 10-6 on the season with a 4.01 ERA.
Hawaii wins 7-2.
Game 2
- The Tropics overcome 2 errors and use an efficient day from LF
Bastiao Fardos
to put the Wolves in the kennel. Fardos was 3 for 3 on the day with a homer, 2 singles, a walk, 3 runs scored, an RBI and a stolen base. He is having a breakout season for Hawaii hitting .326 with 23 homers and 59 RBI.
RF
Mike Campbell
hit a big 3 run homer in the second inning to cut the early Wolves lead to just 5-4.
SP
Jesus Gonzalez
fought through the errors through 4 1/3 innings. He allowed 5 runs, all unearned, on 7 hits, 3 walks and struck out 3.
RP
Norm McConnell
pitched the ninth and walked a batter but earned his 23rd save of the season.
McConnell earns another save
Hawaii wins 7-5.
Game 3
- The Tropics score 4 runs in the first inning and hold on for a win and a series sweep.
SP
Alaric Wullenweber
pitched 6 2/3 innings and gave up just 1 run on 4 hits, a walk and struck out 5. He moves to 10-9 with a 3.59 ERA.
RP
Luis Torres
almost blew another lead after relieving Wullenweber in the seventh. Torres gave up 3 runs on 4 hits over 1 1/3 innings of work. He did strike out 1 batter and barely bridged the gap to Norm McConnell. McConnell recorded his 24th save allowing no runs, no hits, issued 2 walks and struck out 2.
1B Miguel Aguilar, Jr. was 2 for 4 with another homer and a double. He drove in 3 runs and scored 1.
3B
Gary Allen
was 1 for 4 with a solo homer.
Hawaii wins 5-4.
The Tropics pay a visit to San Fernando for a three game series with the Bears at Chico's Bail Bonds Field.
Game 1
- The Hawaii bullpen blows another late lead and the Bears take the series opener. A team effiort by RP
Felipe Lopez
, RP
Luis Torres
and Norm McConnell. Lopez and Torres give up 4 runs in the seventh the McConnell follows with 2 runs allows in the ninth to give the Bears the win.
3B Gary Allen was 2 for 4 with two doubles, a run and 3 RBI.
DH
Ernest McBride
was 2 for 4 with 2 homers, 2 runs and 3 RBI. McBride has hit 38 bombs and driven in 106 runs while batting .330.
San Fernando wins 8-7.
Game 2
- This game turned into a slugfest early by the Bears then late by the Tropics. The Bears eventually holds on the the "W".
Bastiao Fardos was 2 for 4 with 2 homers, 3 runs and 4 RBI.
Mike Campbell was 1 for 5 with a 3 run homer.
C
Ron Shiplack
was 1 for 4 with a solo shot.
SP
Stephen Taub
struggled in this game after a string of good performances, He gave up 6 runs on 10 hits and 3 walks.
Felipe Lopez and Luis Torres added to their woes. Lopez allowed 3 runs over an 1 1/3 and Torres allowed 2 runs in an inning.
San Fernando wins 11-8.
Game 3
- The Bears score 3 runs in the sixth, 1 in the seventh and 2 in the eighth to sweep the Tropics.
Mike Campbell hit a 2 run homer and Ernest McBride hit a solo homer.
Nick Destefani allowed 3 runs on 7 hits, 2 walks and streusel out 3 over 5 2/3 innings.
San Fernando wins 6-4 and sweeps the series.
After the game GM Jim Walker said, "We are going to sit down with the coaching staff and work out a bullpen plan going forward. We have some guys with some reverse splits that is extremely out of character."
Everyone in Hawaii is wondering "WTF is going on?"