[iMac video clip]
(The camera shows the office of Black Sox owner Vinnie Vitale, who is speaking into a video phone on his desk. His sumptuous office, all dark wood walls with hand tooled crown moulding. Oil paintings of former Black Sox greats decorate all of the walls except one, which is dominated by a large painting of a South Side Towing truck. Vinnie's voice is soft and his manner is calm – which is Vinnie at his most dangerous.)
Vinnie:
Don't argue with me, Nash. I know it was her – that damn Heidi Hickman. I don't know how
she got the video of that dump
, but I don't have any doubts that it was her. That is gonna cost me a bundle in EPA fines, and I wanna know how she got hold of that. You, my friend, were supposed to be keeping an eye on her.
Max Nash:
We tracked her to Chicago and to her hotel. But she slipped out sometime that night She didn't use the lobby or any of the other usual exits, so, yeah. She gave us the slip. It happens. Not often, but it does happen. We're PI's, Vinnie, not miracle workers. And how do you know it was her, anyway?
Vinnie:
Because of that damn
Simpson
text. She knew almost the minute he hurt himself. You said it came from her phone, right?
Nash:
Yeah, no question about that. Our guy at U.S. Cellular pinpointed it to her phone.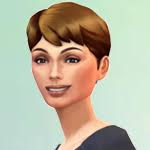 Heidi Hickman
Vinnie:
Huh. Wait a minute. Can't you use someone's phone to figure out where they've been?
Nash
: Normally, yeah. But somehow, she disabled that. Our guy couldn't get anything.
Vinnie:
Well, damn. Doesn't matter. Only one way she coulda known about Simpson that fast.
Nash:
OK. I'll buy that. One question: What was Simpson doing helping those guys, anyway?
Vinnie:
For the last time, Nash, he wasn't helping them. He had expressed some interest in learning the business, said he wants to plan past his retirement, and he was doing a ride-along. You know, they weren't supposed to dump that shit in the Little Cal … I mean, it runs right by the ballpark. They freelanced that part.
Nash:
They did? Well, that's odd. How did Heidi Hickman know to be there if that was an impromptu dump?
Vinnie
(eyes widen)
: That's a very interesting question, Nash. Very interesting. You don't suppose Hickman put 'em up to that, do ya?
Nash:
It's possible. You said she was pissed off.
Vinnie:
That she was.
Nash
: Well, maybe it would behoove us to ask the driver and those other guys how they decided to dump that … whatever it was … into the Little Cal instead of where they were supposed to dump it.
Vinnie:
You know, Nash, you're not as dumb as you look.
Nash:
Thanks, Vinnie. I think. While I'm at it, what was in those drums, anyway?
Vinnie:
Well, you know I have a company, called Agri-Green, that specializes in disposing of agricultural waste, including pig manure.
Nash:
Pig manure? I thought those big farms all used anaerobic lagoons to get rid of that stuff.
Max "Specific Skills" Nash
Vinnie
(dismissive)
: Yeah, they do. But you'd be surprised how often, um,
supply
outstrips capacity, and that's where we come in.
Nash:
So, you're telling me that was pig shit?
Vinnie:
Yeah, concentrated liquid pig manure. But it wasn't supposed to go there. It was supposed to go downstate.
Nash:
OK. Well, let me get my people to track down your crew and find out how they decided to dump that stuff near the ballpark.
Vinnie:
Good, you do that. Put the screws to 'em. I think you'll find Heidi was, somehow, involved.
Nash:
I notice you seem to have learned her name …
Vinnie:
I always know the names of people who pose a threat.
Nash:
Very wise. You know, I'll need to talk to Simpson, too.
Vinnie:
Yeah, go ahead. But go easy on him – he didn't bargain for any of that. I think you'll find he was as surprised as anyone about where that truck ended up.
Nash:
You've talked to him?
Vinnie:
Couple of times, yes.
Nash:
How about the other guys? The driver?
Vinnie:
Nope. Not yet. I think they're avoiding me.
Nash:
Good. Let 'em. You steer clear. Let my people do their work. They have a set of very specific skills …
Vinnie
(smirks)
: You've been watching too many Liam Neeson flicks.
Nash:
That doesn't mean I'm wrong.
Vinnie:
No. S'pose not.
Nash:
So, what're you doing about your, uh, overflow manure supply?
Vinnie:
Funny thing, that. On Aug. 24, there will be a convoy of robo-tankers moving along U.S. 68 right through Yellow Springs …
Nash:
Robo-tankers?
Vinnie:
Yeah. You know, driverless trucks, driverless tankers.
Nash:
Ok. Never heard them referred to as robo-tankers before.
Vinnie:
Yeah, well, you learn something new every day. Anyway, when that convoy reaches the U.S. 68 intersection with Dayton Street …
Nash:
That's near the ballpark, isn't it?
Vinnie
(mock-mournfully)
: Sadly, yes.
Nash:
Sadly?
Vinnie:
Yeah. Very sadly for Ron Collins and anyone who works for the Yellow Snow Nine, 'cause one of those tankers is gonna have an unfortunate software glitch and empty its load right there … less than half a mile from "Utopia Field."
Nash:
Oh man, yuck.
Vinnie:
Yeah. You know what 8,800 gallons of liquefied pig shit smells like on a hot August afternoon?
Nash:
Uh, no. And I don't want to know.
Sox owner Vinnie "That's Amore" Vitale
Vinnie:
No, you do not.
Nash:
Can't they just close the roof of the stadium?
Vinnie:
Sure they can. But that ain't gonna keep that smell out. Not to mention that the Yellow Snow fanbase is gonna be smellin' that stink in their downtown for weeks. It just doesn't want to go away …
Nash:
Aren't they gonna nail you for this, though? They'll trace it to Agri-Green, won't they?
Vinnie
: Oh, yeah, they will. They'll also find that we were hacked by unscrupulous and nefarious scoundrels from the West Coast.
Nash:
You've lost me.
Vinnie
: Once they start investigating, they'll find the command to dump that load was more than a glitch: it was sabotage.
Nash:
From the West Coast?
Vinnie:
From a computer with an IP address registered to an IT company that a certain sorry baseball team in Portland uses for "statistical analysis."
Nash:
Jesus.
Vinnie:
Yeah. That should keep 'em busy out there in tree hugger land for awhile. Long enough for us to figure out what Miss Heidi has been up to – and what she'll try next.
Nash:
We'll figure it out. That driver'll be singing like a canary before long.
Vinnie
: Excellent. I love a good tune! See ya, Nash. Let me know how it goes.
Nash:
Absolutely, Vinnie. Good luck with operation Fragrant Highway.
Vinnie
(laughs)
: Yep. We're gettin' things lined up as we speak.
(The call ends, and Vinnie can be heard singing "That's Amore" in the background)
Vinnie
(in a surprisingly good singing voice)
: When the moon hits your eye like a big pizza pie …
[Recording ends]