March 13th, 2037
The first half of Spring Training went as well as expected. As usual now the first period is reserved for the prospects and backups to strut their stuff and keep the real starters injury free for their limbering up at the end of Spring camp. In the main that has worked well so far with the only injury of note being left fielder
Pedro Saldana
who was unfortunate enough to suffer a fractured hand in a collision running the bases that will see him start the season on the DL.
Sean Maguire
and
Calvin Clohessy
have also had minor DtD injuries.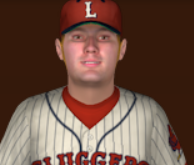 Brendon Carr is 1-0 in two Spring starts, hasn't surrendered a run yet but is 4/3 in his walks to strikeouts ratio
The Triple-A pitchers from the 40-man roster attending camp have as feared shown that in general they are still a year, at least, away from a serious shot at a roster spot. Louisville Fire's (Double-A) lefty pitcher 20-yr-old Augusto Sanchez, the franchise's #1 pitching prospect, showed some good things in his two starts and will spend the remaining part of camp in the bullpen getting some more innings in. He will however be sent to Missouri afterwards to work on his control.
Sean Gardner
,
Douglas Wils
&
Wilson Padilla
have been optioned back to Missouri after they gave a poor account of themselves while
Brendon Carr
will get an extended look as a starter before in all probability joining his teammates in Missouri.
Carlos Rosa
has already had eight outings and earned two holds & two saves in 13 IP and will probably sit nearly all of the rest of camp out while 25-yr-old
Gabriel Espinosa
gets a look at what it's like as a big league stopper.
Axel Goulding
and
Yasuoka Okamura
will take a go at being the setup men while a plethora of other arms will wait for the call to the 'pen.
Two batters have really impressed so far in the opening 14 games, second baseman
Lou Cotton
and new signing
Maximo Quezada
. Cotton has found some pop in his bat and has hit three homers so far while his range & speed will see him now sharing starts with
Gabriel Talamante
for the rest of camp. Quezada has been all the Sluggers hoped in his first 13 games for the franchise. His batting average is .316, he is 5-0 in steals, he has hit his first homer for Sluggers as well as showing off his arm with a pair of outfield assists. His challenge now is to maintain / improve that in the next few weeks before the players head for Louisville. Last year's main CF,
Abay Omoruyi
has been showing that he can play in left which is just as well after Saldana's injury.
Scott Martin
is once more trying to jostle his way back onto the 25-man squad by hitting .379 with five doubles but he did this last year. Did enough to break camp as the DH but within the month had played awfully enough to be back in Triple-A, will that be held against him?
Joey O'Brien
is doing his best too, hitting .387, flashing the leather at short, showing his speed with a couple of steals while showing the patience to be the joint team leader in walks with four. Trouble is he's trying to displace Talamante who has four walks too but is really struggling with the proposed move to the hot corner. He's dropped a couple of bloopers and he's obviously distracted from his batting, only hitting .105. Super utility man
Calvin Clohessy
has been working on his hitting and is opening some eyes at the moment, he will spend the rest of the camp sharing the DH role with regular DH
Javier Vazquez
to improve further