Smith Files Grievance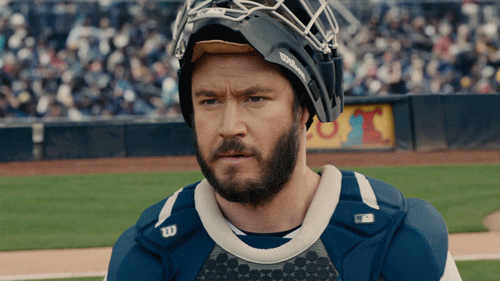 (Catcher leaks story of corruption to press. Won't rest till Robins lose more fan interest.)
It was just a few weeks ago that we posted a feel good story about how the Robins gave a fitting sendoff to a franchise great. Well, today comes news that not every Robin has been treated with the same dignity.
Sean Smith
(6/7/7/4/4 Talents) was a first round pick in the 2027 draft. In fact, he was the first ever selection by a rookie GM by the name of Alan Ehlers. Smith was set to be the catcher of the future and take over when
Sam Adams
(5/5/9/7/3 Talents) time with the team had passed.
While Smith may not have totally lived up to the initial hype, he has been a stalwart for the Robins for the past 6 season. A defensive first catcher who hasn't been a total loss at the plate. His handling of pitchers may be over shadowed by some of the gimmicky things Brooklyn does. But those who know, understand that Smith is just as big of a reason for pitching over achievements as anything.
As per the rules of the BBA. A player Is under team control for no less then 6 seasons. The first 2-3 at league minimum. Then the next 3-4 under arbitration. Many teams will manipulate the system by keeping a player in the minors to start a season. This is to ensure that season #3 is still at league minimum and also keeps the player around for a 7th season because year one is not a full season.
The Robins DID NOT do this for Smith. He broke camp with the team in 2031 and never looked back. Thus he is lined up to become a free agent at the end of the season. Brooklyn has been trying to get Smith to accept a minor league assignment to slow his free agency clock all season. To no avail. Sean was steadfast in his decision to play out the season and exercise his right of free agency.
Now, Brooklyn theoretically could resign Smith. His demands are not outrageous and he will not put them over the salary cap next year. The Robins simply don't have any money to do so. It's well documented that the team is going all in, building up the largest financial black hole in the history of the league as they claim they will win the Landis next season. Quite frankly, it's a brash statement by a team who couldn't even finish .500 this season, but to each their own.
So with Smith lined up to acure exactly 6 years service time. There was only one thing to do in order to have a shot at keeping him. The Robins DFA'd Smith and placed him on waivers. It was a long shot and a calculated risk.
Smith's offensive ratings are not very good. You see 6/7/7/4/4 all the time on the waiver wire and it's not very exciting. His value is in his defense and it's believed not every team will look up the defensive value of a player on waivers. Also, the point of the season we are in was part of the decision. I don't think any of the playoff teams are hard up for a catcher. Sure, Smith would be a significant upgrade at many of the backup spots. But who is taking on a $5.75 million cap hit on a backup catcher with 2 weeks in the season?
There was a chance that there could be a wild card team that could jump in and seize the opportunity. Nashville immediately came to mind. But they were pretty set as catcher. As were the other teams who might be creative enough to spontaneously jump on an opportunity. I guess the long end of the story is that Brooklyn values Smith higher then most teams and there was a very real shot he would pass through waivers. And he did. The Robins can now use his one outright and he'll be a Robin for at least one more season.
Smith is said to be irate about the situation and has already talked to union reps about filing a grievance. It's expected that some owners around the league are going to protest as well. It's not the first time this Robins front office has been under scrutiny and probably won't be the last. Their continuing pursuit of what they call "moneyball 2.0" tends to rub some the wrong way. But the fact of the matter is Smith was there for the taking and anyone could have claimed him. Nobody wanted him, so Brooklyn keeps him. Jut like the system is intended to do.