The sun almost shone
Although we couldn't complete the sweep over Tripoli the week turned out to be far better than we could have hoped for. We actually managed three wins out of our six games, and two of the three losses were only by a single run, not the half dozen or double-digit losses we had become used to. The win we pinched off Beirut was very welcome, and it was great to continue our evil eye over the Hebrew Hammers. Somehow we have managed to win 14 out of our 25 meetings with them, nicely balanced with seven wins at home & away. The average attendance for 2048 has now dropped below 20,000 for the first time and although we have just passed our total attendance figures for 2047, it will be a real struggle to keep the fan interest up now in our attempt to get the 360,000 odd through the gate in our remaining 19 home games to set our all-time total attendance.
With
Francisco Cardona
showing no sign of improving in the rotation we have swapped him out, with 33-yr-old
Sean Gardner
getting another turn in the rotation. Two more bits of news on the pitching staff both concern the bullpen.
Raul Correa
is finally back after three months out with forearm inflammation and slots straight back into the 'pen while stopper
Fernando Guerrero
has signed on for another two years. For a relatively cheap $1.3 million a year he is a sound bullpen arm, he's collected three saves in four opportunities, which is something not a lot of our arms can do.
Rule 5 pick
Vinnie Coalman
is up to 17 stolen bases now, just two more this season will give him our single season stolen base record. Not a lot I know, but anytime a Rule 5 pick, who had never played above Double-A, gets a chance to set an UMEBA franchise record it has to be something special, especially as he has only been caught three times. He's probably been helped by leading the team in OBP (.361) and walks (38), giving him more opportunities. While our best WAR producer (2.0) is also Vinnie it is I suppose a bit of a bonus for us that only four outfield players actually have a negative WAR this sorry season.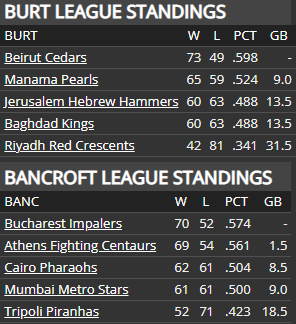 2048 Riyadh Results against the UMEBA (up to August 17th)



Vs BURT
| Team | HW | HL | AW | AL | RF | RA | Series |
| --- | --- | --- | --- | --- | --- | --- | --- |
| Baghdad | 4 | 8 | 4 | 8 | 80 | 127 | 8-16 |
| Beirut | 3 | 9 | 2 | 12 | 73 | 156 | 5-21 |
| Jerusalem | 7 | 7 | 7 | 4 | 133 | 113 | 14-11 |
| Manama | 5 | 11 | 3 | 8 | 99 | 150 | 8-19 |
Vs BANC
| Team | HW | HL | AW | AL | RF | RA | Series |
| --- | --- | --- | --- | --- | --- | --- | --- |
| Athens | 1 | 2 | 1 | 2 | 26 | 27 | 2-4 |
| Bucharest | 0 | 3 | 1 | 2 | 18 | 34 | 1-5 |
| Cairo | 0 | 0 | 0 | 3 | 11 | 27 | 0-3 |
| Mumbai | 0 | 0 | 0 | 0 | 0 | 0 | 0-0 |
| Tripoli | 2 | 1 | 2 | 1 | 29 | 19 | 4-2 |