Just how low can we go?
As July turned into August Riyadh closed out with a 2-11 run, including a, to date, an all time record ten defeats on the trot. How much longer can this continue? We're not even in the same league anymore as the rest of the UMEBA teams, we're just somewhere they visit for three or four days holiday and thirty runs. The Red Crescents record for July sank to a mere six wins all month, unsurprisingly the fan interest is sinking, the attendances are sinking, the only thing that can't sink is our position as there isn't anyone within 10 or a dozen games of us at the complete rock bottom of the whole league.
Jose Montano
is still sunning himself with continued setbacks on the IL and it's looking more and more as if he won't suit up again for Riyadh, I'm so glad I didn't force him to sign that contract extension now. Why is it that every shortstop we have in the organisation hardly ever misses a ball with his glove but rarely hits more than one in six or seven with his bat? 23-yr-old
Burt Davies
, once the great hope of the franchise, has now sunk as low as A-Ball and is still barely hitting one in ten balls now. We have a gaggle of mid-20's aged shortstops at al our top levels who don't know their bat from their arse but are quite capable of stopping one hit at them (although most of them while being highly rated with the glove, don't like to show it much above replacement level).
It may well be time to change the bottom 3/5ths of the rotation again, but almost certainly to no avail.
Raymond Ortiz
and
Bert Hackworth
are back to pitching with their "Joie de vie" in Triple-A but no doubt will go back to being shelled in the UMEBA. The greatest hope is this year's #1 overall pick, 19-yr-old
Umar Doger
, in five starts in Double-A & seven in Triple-A he has a combined 5-0 record and has only given up 19 runs in 75 innings pitched. I just really worry about rushing him up too early, he's currently rated 45 on a potential of 65 and I'd really like to see him hit 50 rated before he comes up. Anyway, I think it would be pointless to start his clock this season, he alone couldn't change the destiny of our season. Far better to give him his first UMEBA spring camp in 2049 and make the final decision then. I have received several offers for our top two in the rotation, but it's so hard to get near a valuation for them. I have to value them as my best two pitchers while of course everyone else is valuing them as the 4 or 5 starters they are in reality. Nothing offered is anywhere better than anything in any of the franchise levels already so to give them up would only mean adding to the mediocrity in the lower levels while ensuring I would have zero decent (or in reality half decent) in the Riyadh rotation.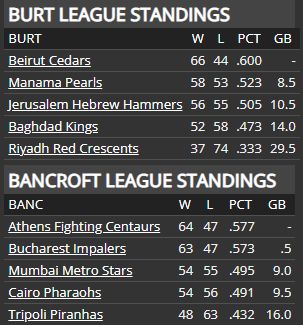 2048 Riyadh Results against the UMEBA (up to August 3rd)



Vs BURT
Team
HW
HL
AW
AL
RF
RA
Series
Baghdad
4
5
4
8
71
103
8-13
Beirut
2
7
2
11
64
138
4-18
Jerusalem
7
7
5
4
122
107
13-11
Manama
5
11
3
8
99150
8-19
Vs BANC
| Team | HW | HL | AW | AL | RF | RA | Series |
| --- | --- | --- | --- | --- | --- | --- | --- |
| Athens | 1 | 2 | 1 | 2 | 26 | 27 | 2-4 |
| Bucharest | 0 | 3 | 1 | 2 | 18 | 34 | 1-5 |
| Cairo | 0 | 0 | 0 | 3 | 11 | 27 | 0-3 |
| Mumbai | 0 | 0 | 0 | 0 | 0 | 0 | 0-0 |
| Tripoli | 0 | 0 | 2 | 1 | 11 | 9 | 2-1 |