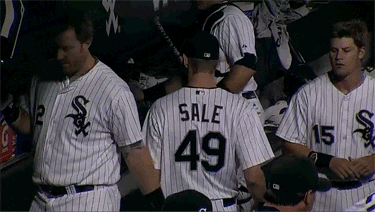 Kunz Schuck Named to All Star Team
(...and he didn't take the news well)
If you think the action was hot and heavy on the BBA forums today, you haven't seen nothing. 28 year old Bospherus SP/RP/wanna be hitter aka "The Jerk of All Trades"
Kunz Schuck
was named to the Burt All Star team. Making the All Star team is usual a high ranking honor. But not to 'ole sticky hands". When told of the news, Schuck was livid!
"GOD DAMNIT! How many $%#& saves do I have to blow around here? Our bullpen is the laughing stock of the league and I'm about to win the Goat award. And I don't mean greatest of all time. I mean the god damn pitcher who blew the most walk off wins. And I'm an all star? I mean I knew that our talent level is piss poor and all, but are we really scraping the bottom of the barrel that bad? I f#%&'in bloooooow!"
Never a man to shy away from his true feelings, Schuck will play in front of his home crowd during Tuesdays all star game.
"If it isn't bad enough that I have to play in this god awful city full of nothing but Bath Houses and Gyro stands... Now I need to cancel my trip back home to Germany to see my lovely girlfriend Helga"
Truth be told, Schuck is a married man and his wife lives in Istanbul with him. So who exactly this Helga chick is, is anyone's guess.
"Ugh, I'm just so sick of this city, this third rate franchise, playing in the same god damn 3 cities one after another after another after another after another. And the All Star game is in Istanbul? For Christs sake I'd like to see one of these Bancroft stadiums before I die."
Of course it's a known fact that the UMEBA teams only play in their league. And with only 3 opponents it can get very repetitive.
"Never again will I let my agent make a decision for me. I was happier playing for the Genius."